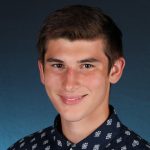 Throughout my life, I have received the same question from both acquaintances and close friends: why do you do that? As long as I can remember my tics have always been fairly blatant as well as attention grabbing; ranging between small vocal tics and large motor tics. When I was young I usually did not know when I had tics unless somebody pointed it out, presently, my motor tics are so large that I can't help but notice them; especially when they cause me pain.
Living with Tourette's Syndrome has been a challenge mostly due to the distractions my tics create during school. They not only distract me, but also my peers. This has resulted in a self-consciousness surrounding my tics in public and often times leads to me missing important parts of a lesson because I struggle to suppress them. One particular moment involving my Tourette's that I will never forget happened early in my elementary school career. At the end of every year in grade school we took an aptitude test known as the End of Grade Test or EOG's. During this time of year, in fourth grade, I had developed a vocal tic that was usually undetectable, however, in the incredibly silent test setting it was fairly noticeable. About half-way through the math portion of the test, the proctor confronted me, she made me look her in the eyes and then sternly said "stop it."
Another incident I remember also happened in elementary school, in AIG class. I had a tic that must have been bothering my teacher. When she told me to stop, I told her that I'd try, but that I have Tourette Syndrome and that I don't always know when I'm doing it. Apparently, she didn't believe me. She called my mom that evening and told her that I was disrupting class with my humming and that when she asked me to stop, I told her that I had Tourette's Syndrome. My mother promptly told her that it was true, and that she would appreciate it if she didn't bring attention to it or ask me to stop anymore. She suggested that Mrs. Hensley send me to do an errand for her if it ever got to be too distracting, as this would give me a chance to work it out.
Luckily for me, my mom is understanding, and supportive. My mom has had tics since the seventh grade. Her mom didn't understand and used to get mad at her and smack her when she had them. Ironically, it was after my grandmother watched a television special about Tourette's Syndrome that she called my mom and told her that she thought my mom had Tourette's Syndrome, and that my tics could be caused by the same thing. Not long after, when my tics had progressed to vocal and large motor tics, my mother took her advice. Now I have a great neurologist, and being diagnosed was a welcome relief.