Help us celebrate Tourette Syndrome Awareness Month.
We would love for you to attend our 3rd Annual Summer Camp Paint Party fundraiser to help us send  two children to Camp Twitch and Shout, a Tourette Syndrome Summer Camp.
Pre-register at this link.
Registration Options:  Pay via credit card online at link above, or call A Painting Fiesta at 561-961-0735 to reserve your spot and pay via credit card or cash upon arrival. Please arrive on time at 1:45pm.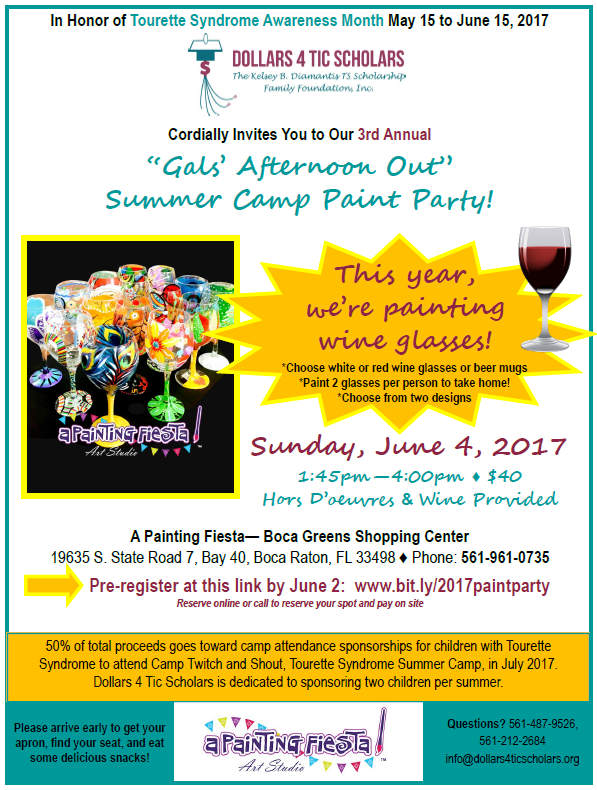 A COPY OF THE OFFICIAL REGISTRATION AND FINANCIAL INFORMATION MAY BE OBTAINED FROM THE DIVISION OF CONSUMER SERVICES BY CALLING TOLL-FREE WITHIN THE STATE. REGISTRATION DOES NOT IMPLY ENDORSEMENT, APPROVAL OR RECOMMENDATION BY THE STATE. The toll-free number of the department is 1-800-HELP-FLA (435-7352) – calling from within the state of Florida, or (850) 410-3800 – calling from outside of Florida. The website of the department is www.FloridaConsumerHelp.com. Reg. #CH41961.