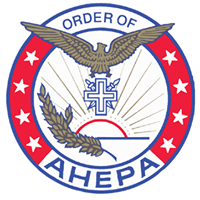 We thank our sponsor AHEPA Chapter 487, a fraternal organization that promotes the ideals of ancient Greece including philanthropy, education, civic responsibility, and community service. We asked them a few questions about their involvement with Dollars 4 Tic Scholar. Learn more below.
Promoting education and philanthropy are some of the staples of AHEPA, but what made you support D4TS by sponsoring one of our Scholarship Recipients each year?
We agreed to support D4TS at $1,000 each year for three years because we not only believe it's a terrific cause, but we want to fully support our brother Chuck and the Diamantis family.
What does D4TS and our scholarship recipients mean to you as an individual and as an organization?
Individually I do not know much about Tourette Syndrome nor have experienced it personally, but know that through the good work of Kelsey and Diane, it is helping students with TS get through college by reducing their financial burden.
What would you say makes D4TS strong?
The commitment and continued perseverance of its founders Kelsey and Diane Diamantis in growing this foundation and increasing the number of students benefiting.
What are AHEPA's next steps to furthering their impact in the community?
We plan to continue our philanthropic and educational support within both the Saint Mark Greek Orthodox Church and local community by building on our previous year's efforts and making even more of an impact. We hope to do this by continuing to build membership, encouraging more members to be active and involved and plan and implement a new fund raiser to help supplement what we raise each year through our annual Valentines Dinner Dance.