Everyone loves comedy. Check out our first post about how Chelsea White got involved in stand-up by clicking here. But isn't poking fun at Tourette Syndrome taboo? Read on!
D4TS:  Some people might think that making humorous observations about Tourette Syndrome is inappropriate. How do you approach this quandary with your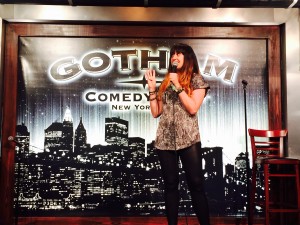 shows?
Chelsea: I think since I have Tourette that doesn't necessarily apply because if we aren't able to find the humor in our own "weirdo things" as I like to call it then we'll all go nuts! I'm very passionate about being vocal about whatever it is you're dealing with or going through because that is the only way we can normalize it. And humor is a great way to get people to pay attention as well as relate and empathize.
With that being said, I take my responsibility very seriously and I still feel far from having written the "perfect" Tourette jokes. It's super intimidating to try to dispel the stereotypes associated with Tourette while at the same time setting the stereotype up. To be honest I rarely do jokes about Tourette outside of Tourette-specific events because half of your job is already done! The audience doesn't need as much set up and backstory and they know the stereotypes aren't true already. It's an ongoing process!
At Dollars 4 Tic Scholars – we are very serious about our mission to recognize the challenges that students who have Tourette face as they attend college…financial, social, and psychological. We also support children ages 7 to 17 who have Tourette by sponsoring two children a year to Camp Twitch and Shout Tourette Syndrome summer camp in Georgia where Kelsey is a counselor. She loves those kids! We are looking forward to having Chelsea share more about Tourette with our audience on February 26, in a lighthearted, positive and real way! 
–D4TS