Our main focus is giving financial encouragement to students who have Tourette Syndrome through college scholarships and camp sponsorships, but we like to spread awareness of Tourette Syndrome whenever we can. Comedienne Chelsea White is helping us share more about Tourette with our local area, by traveling down for our event on February 26! Be sure to see our Part 1, Part 2, and Part 3 posts in our "Get to Know Chelsea" series!
We asked Chelsea how having Tourette affected her in college.
D4TS: Did you got to college? If so, did having TS impact your college life and how?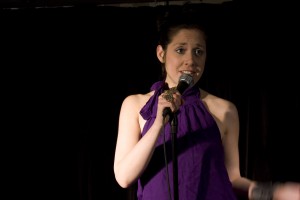 Chelsea: I did! I went to Grove City College in Grove City, PA (near Pittsburgh) and at that time I was on medication (I started my junior or senior year of high school and stopped my freshman or sophomore year of college). I was able to sort of conceal it most of the time, but I did tell my close friends as I got to know them if it organically came up somehow or I felt as though they were noticing my tics. Everyone was very cool about it! I honestly never had a bad experience talking to someone about it. It definitely stressed me out to try to conceal it while living with a roommate and never having alone time to "let loose," but I was so crazed in college doing so many activities, I was hardly ever in my room more than to sleep! It was sometimes tricky in classes and the library, but I would just do my best to conceal or wait out the vocal tics until I was walking by myself or something between classes. I really sort of trained myself to hone in one my muscle tensing tics and other tics that weren't as bothersome to others (just me!).
D4TS: Any other situations where TS was an issue?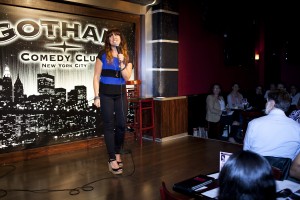 Chelsea: I've honestly never had a situation where Tourette was an issue beyond more than an annoyance or a bit of an embarrassment. (Like right now on this airplane while I'm writing this!! I cannot stop doing a little vocal tic and I'm just praying everyone around me has headphones on.) Once I did a tic I had where I had to bend over until I felt a certain stretch in my back so hard that I thought I threw my back out! Sometimes people hand me tissues on the subway. Being with a guy I liked at those beginning stages of liking each other was the worst because we'd be sitting close on a couch or whatever and I would be tensing my arm and doing little muscle tics. One of the hardest things is actually being with a group of friends and being pumped up and having a lot of fun because my tics seem to go the craziest then!
D4TS: Why you are being so wonderfully generous and supporting our fundraiser?
Chelsea: You are so wonderful for having such a wonderful non-profit!!!! It is my life's passion to spread awareness of and destigmatize Tourette and I jump at any opportunity that will support that effort!
We hope you have enjoyed this opportunity to get to know Chelsea before the big "Friday Nite with Chelsea White" comedy-for-a-cause event! Please be sure to register for your admission. We'll have a wonderful Greek dinner by Zorba's Taverna, beer and wine, Chelsea's show, raffle items and silent auction. Other sponsors include Jack Fleming of Wells Fargo Financial Adviors, and Afshin Karnama of PNC Bank. After expenses, funds go toward 2016 scholarships!
–D4TS