Today we are pleased to feature a guest blog by Shirag Shemmassian, Ph.D. We met Dr. Shemmassian at the 2016 national conference of the Tourette Association of America. His work as a consultant helping students with disabilities fits well with our goal of helping college students who have Tourette Syndrome. Here, he covers a topic that can benefit students with all types of disabilities. We hope you find it useful!
–Dollars 4 Tic Scholars
How to Effectively Write about a Disability in a College Essay
by Shirag Shemmassian, Ph.D.
Parents often ask me whether their student's college admissions chances will be hurt if they discuss a disability in their college essay.
The answer is a resounding "No." In fact, disclosing a disability in a college essay or elsewhere on a college application can help your student gain admission to their dream school.
Colleges aim to recruit a diverse student body, and disability is seen as one form of diversity. Disclosing a disability can provide admissions committee members with the proper context in which to evaluate your student's academic and personal achievements.
Nevertheless, I am a firm believer that there is no such thing as a good or bad college essay topic, only strong or poor execution. Therefore, merely disclosing a disability won't be enough to get your student into great colleges. They will have to go a step further and discuss specifically how their disability makes them them.
So, how can your student produce a standout essay about their disability? Following the dos and don'ts listed below will help your student avoid common mistakes and wow admissions committees the nation over.
Don't write a story with the intention to make the admissions committee feel bad for you. Do write a story that demonstrates your unique qualities and how you will be a good fit with a particular school.
Every time an admissions committee member reads a college essay, the question in the back of their mind is: "Will this applicant be a good fit at our school?" The best way for your student to demonstrate fit with a college is to tell a compelling story that conveys their positive traits, such as grit, resilience, and optimism. On the other hand, telling a story that exclusively highlights the challenges your student faced with their disability will unfortunately lead the reader to doubt whether they will be able to handle the rigors associated with college life.
Don't simply write about how you dealt with your disability. Do communicate how working through your disability has transformed you or helped you grow.
Your student's disability, and the way they have dealt with it, have likely contributed significantly to their identity development. Admissions committees want to know how your student's experiences with their disability has shaped them into the wonderful person they are today. For example, overcoming the teasing and self-advocating for my educational rights associated with my Tourette Syndrome diagnosis has helped me embrace the fact I am just as capable as anyone else and to help others do the same. How has your student been transformed positively because of their disability experiences?
Don't present yourself as someone who has overcome every issue related to your disability. Do present yourself as someone who makes the most of every difficult situation you face.
Your student's disability may impact their friendships, schoolwork, and relationships with family members. And while your student is likely an incredibly resilient individual who has overcome multiple barriers at school, at home, and in the community, they inevitably continue to face challenges due to their disability or otherwise. Therefore, your student's goal for their college essay should be to authentically discuss their responses to life's challenges, regardless of whether or not they have figured everything out. I mean, which of us has?
Final Thoughts
Your student should not shy away from discussing their disability when completing their college applications. Doing so may help them present a side of themselves that is likely a major part of the person they uniquely are. Nevertheless, there are multiple fine lines your student must straddle when discussing their disability to come across as authentic and resilient, and to demonstrate fit with their dream schools.
—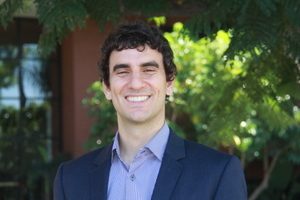 Dr. Shirag Shemmassian has carried a Tourette Syndrome diagnosis since he was 9 years old. However, he didn't let his disability stop him from earning his Bachelor's degree from Cornell University or graduating from UCLA's top-ranked Clinical Psychology Ph.D. program. In fact, he wrote about his experiences living with Tourette Syndrome to gain admissions to these schools.
Dr. Shemmassian channeled his passion for empowering families to found Shemmassian Academic Consulting, through which he helps students with disabilities get into America's top colleges. His work has been featured on television, conferences, and various blogs and podcasts. You can receive Dr. Shemmassian's top 10 college admissions secrets for free to help your student get into their dream school—without the stress—by clicking here.