On March 11 and 12, 2016, Dollars 4 Tic Scholars was proud to be an exhibitor at the 2016 National Conference of the Tourette Association of America. Kelsey and I travele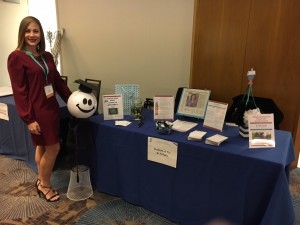 d by car for two days from Boca Raton, FL to Arlington, VA. We were looking forward to meeting people and attending the sessions offered by the TAA at this annual conference. It was a great experience!
We set up our table, ready to tell attendees about our college scholarships for students who have Tourette Syndrome. Some people had heard of us, but many had not! This was a great opportunity to spread the word about the availability of our scholarships.
One of the fun things we did to attract people to our table was our Marble Jar. We had filled a jar with LOTS of marbles. For the opportunity to win a $50 Barnes and Noble gift card, attendees took a guess at how many marbles there were. Although many people did a pretty good job guestimating length x width x height (Dr. Sharon!) … our winner was Krista Hill, chair of the TAA chapter in Arizona! There were a total of 479 marbles – and Krista guessed 475! We heard from her today that she received her gift card!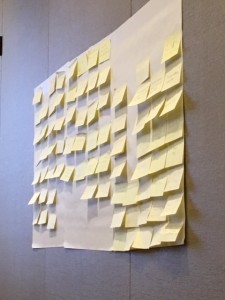 We attended several great educational sessions. The Conference had five tracks, and Kelsey and I were able to alternate visiting and learning. One of the sessions I attended was about social media, and the upcoming campaign to run during May during Tourette Syndrome Awareness month! Each group in the room made a short video as an example. I took this photo that shows all the sticky notes that session attendees (adults and teens) came up with that each list something that we would want someone else to know about people with TS. There were alot of things!
One of the highlights of our trip were all the great people that we met. We met parents who we hope to stay in touch with forever, as well as staff members from the TAA who were amazing – Michelle Gutman and  Mike Capobianco and President John Miller. We also met Rovena Schirling, chairman of the Board of Directors of the TAA!
The keynote speaker for the National Conference weekend was Brad Cohen of the Brad Cohen Tourette Foundation. It was a pleasure to meet Brad, and Kelsey asked him to sign his book that she purchased, Front of the Class! Brad has Tourette Syndrome and is a powerful and inspiring example that Tourette doesn't have to stop you from your dreams. His story was mesmerizing!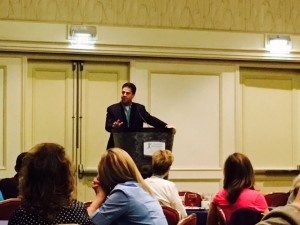 After our two days of exhibiting, we left and drove home for two days, glad we had embarked on this experience. With new contacts and a renewed determination for our mission to award scholarships to kids with Tourette, we know that our experience with the national Tourette Association will continue to flourish!
Diane Diamantis
President
Dollars 4 Tic Scholars