Released on May 1, 2015
DOLLARS 4 TIC SCHOLARS TO HOLD "GALS' AFTERNOON OUT" SUMMER CAMP PAINT PARTY FUNDRAISER;
Non-profit to Hold Event at Vino VanGogh to Raise Money to Send Two Children
to Tourette Summer Camp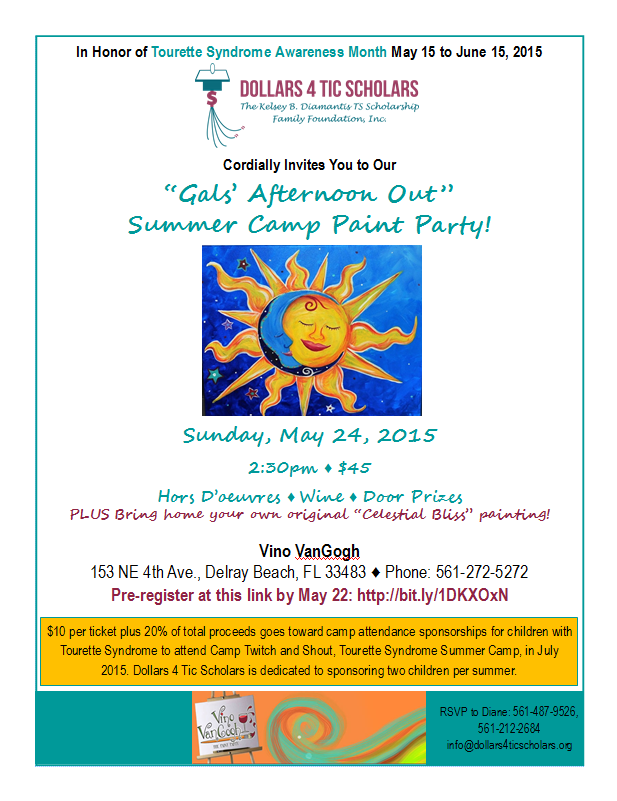 DELRAY BEACH, FL – The Kelsey B. Diamantis TS Scholarship Family Foundation, Inc., dba Dollars 4 Tic Scholars, a local non-profit organization that awards scholarships to students with Tourette Syndrome, invites the public to participate in its "Gals' Afternoon Out" Summer Camp Paint Party Fundraiser on Sunday, May 24, 2015 at 2:30 pm at Vino VanGogh, 153 NE 4th Ave., Delray Beach, FL 33483.
Tickets are $45 which include a $10 donation, snacks, beverages, doorprizes and the attendee's original painting. Donated funds will go toward camp attendance sponsorships for two children ages 6 to 17 to attend Camp Twitch and Shout, a one-week summer camp for children with Tourette Syndrome to be held in July.
Pre-registration is required by visiting http://bit.ly/1DKXOxN online or by visiting www.vinovangoghfl.com, navigating to May 24 in the Calendar  page and clicking the "D4TS Fundraiser" icon, or by calling the studio at 561-272-5272.
Dollars 4 Tic Scholars may be reached at 561-487-9526, at  https://www.dollars4ticscholars.org,
on Facebook at "Dollars4TicScholars", or by email at info@dollars4ticscholars.org.