The Kelsey B. Diamantis TS Scholarship Family Foundation, Inc., dba Dollars 4 Tic Scholars, a non-profit organization established in 2014 in Boca Raton, has been announced as a finalist in the national .ORG Impact Awards sponsored by the Public Interest Registry. The awards recognize non-profit organizations in several categories. Dollars 4 Tic Scholars' co-founder Diane Diamantis is a finalist in the Individual Award category of "Rising Star," which recognizes "a professional with five or fewer years of experience for exceptional contribution to his/her affiliated organization. A "Rising Star" individual is someone who has exhibited initiative and leadership around a specific task, project or campaign."
Dollars 4 Tic Scholars, established in 2014, awards college scholarships to students who have Tourette Syndrome. Tourette Syndrome is a neurological disorder characterized by chronic and involuntary motor and vocal tics which may hinder a student's learning, absorption of material, and focus.
In addition to college scholarships, Dollars 4 Tic Scholars supports younger children ages 7 to 17 by sponsoring two children every summer to attend Tourette Syndrome Summer Camp, and partners with vocational/technical institutions to offer scholarships to adults with Tourette Syndrome pursuing career paths.
Dollars 4 Tic Scholars may be reached at 561-487-9526, at https://www.dollars4ticscholars.org, on Facebook at "Dollars4TicScholars", or by email at info@dollars4ticscholars.org.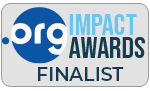 Blog post from the Public Interest Registry:
Announcing the 2019 .ORG Impact Awards Finalists!
SEPTEMBER 24, 2019 | .ORG NEWSROOM, ORG, PIR NEWSROOM
By Tony Connor, Marketing Operations Manager
The scores are in! We are excited to announce the finalists for The .ORG Impact Awards (OIA)—our first annual awards program recognizing .ORGs that are connecting communities, making a difference in the world, and leveraging the Internet for transformative change and mission achievement.
We are extremely impressed with the entries that were submitted from around the world, which made the judging process lengthier than anticipated. This year's finalists come from 28 organizations and 8 countries from around the world. The nominations for the three award categories—Individual, Sector, and Initiative Awards—confirm that the .ORG domain community is tapping partners big and small to accomplish their missions, using technology platforms and channels to reach audiences, and getting creative in how they share information, programs and services.
After a thorough review from our 2019 judges, the top five entries per category that received a score of 50 points or higher (out of 100) have been named finalists. All finalists are invited to attend The .ORG Impact Awards Gala on October 10, 2019 at the historic Watergate Hotel in Washington, D.C. where the winners will be announced. All finalists will receive two complimentary invitations to the ceremony and a representative from Public Interest Registry, the sponsor for OIA program, will be reaching out to finalists directly to confirm attendance.
Congratulations to all of the finalists listed below (in alphabetical order). And a BIG THANK YOU to everyone who participated in this year's program.
Individual Awards
Finalists in the Individual Awards category recognize the contribution of one person in support of their organization (which must use a .ORG domain) or to the broader community and/or mission under which the organization operates. There were a number of finalists from the organizations listed below.
Sector Awards
The Sector Awards category recognizes outstanding organizations in the .ORG community, including nonprofit organizations, for-profit organizations, and community groups. Finalist organizations listed below.
Initiative Awards
The Initiative Awards category recognizes various programmatic initiatives that support broader organizational goals, with a focus on online-based initiatives. Finalist organizations and campaigns are listed below.
# # #