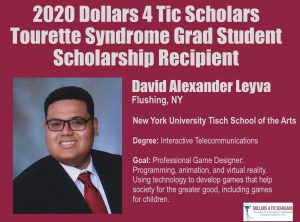 The Kelsey B. Diamantis TS Scholarship Family Foundation, Inc., dba Dollars 4 Tic Scholars, a non-profit organization established in 2014 in Boca Raton, has just announced the recipients of its 2020 Tourette Syndrome Scholarships. Dollars 4 Tic Scholars awards college scholarships to students around the U.S. who live with the challenges of Tourette Syndrome. It is among the first non-profit scholarship organizations for students with Tourette. 2020 is Dollars 4 Tic Scholars' sixth award year.
The three scholarship recipients include:
David Leyva of Flushing, NY — Recipient of the "2020 Dollars 4 Tic Scholars Grad Student Tourette Syndrome Scholarship" in the amount of $1,500.00. As an incoming first year graduate student this year, David is pursuing his Master's Degree in Interactive Telecommunications at New York University's Tisch School of the Arts in Brooklyn, NY. He plans to become a professional game designer and develop games and technology to help society for the greater good.
Joseph Sexton of Cumming, GA — Recipient of the "2020 Dollars 4 Tic Scholars TS Superstar Tourette Syndrome Scholarship" in the amount of $2,000.00. The organization's new TS Superstar Scholarship recognizes a student who has spread awareness of Tourette Syndrome in his community. This fall, Joseph will be a sophomore at Vanderbilt University, in Nashville, TN. He has a double major in Psychology and Medicine, Health & Society and a double minor in Biological Sciences and Quantitative Methods. His goal is to research trends and study the intersection of statistics and psychological phenomena, potentially with a career in psychiatric epidemiology for a public health organization.
Jason Ingerick of Arden, NC — Recipient of the "2020 Dollars 4 Tic Scholars Tourette Syndrome Scholarship" in the amount of $1,500.00. Jason is a fourth-year recipient and is attending Northeastern University, Boston, MA as a senior, and continuing his major in Chemistry with a minor in Mathematics. After he graduates, Jason plans to spend a year continuing lab research in chemistry at Massachusetts General Hospital and continue working as an EMT in Boston. Afterward, he plans to attend medical school with the ultimate goal of becoming a neurosurgeon.
The Dollars 4 Tic Scholars scholarship program received scholarship applications from students around the country in response to its offering. Essays from the applicants which tell stories about their experience as a person with Tourette Syndrome are posted to the organization's website to help others who may be experiencing a life with Tourette.
Vice President Kelsey Diamantis noted, "Due to Covid-19, this year we divided our college scholarships into two award periods. Round One is for fall 2020, and Round Two awards will be awarded in time for January 2021. We think it was important to allow students the time to collect the information from their schools that was a little more difficult to obtain due to school closings. We are excited about our three recipients and are proud of their accomplishments!"
Tourette Syndrome is a neurological disorder characterized by chronic and involuntary motor and vocal tics which may hinder a student's learning, absorption of material, and focus.
In addition to college scholarships, Dollars 4 Tic Scholars supports younger children ages 7 to 17 by sponsoring two children every summer to attend Tourette Syndrome Summer Camp.
Dollars 4 Tic Scholars may be reached at 561-487-9526, at https://www.dollars4ticscholars.org, on Facebook at "Dollars4TicScholars", or by email at info@dollars4ticscholars.org.
# # #