Dollars 4 Tic Scholars relies on the generosity of the public as well as revenue from special events to fund our scholarships and operations.
We hope you'll tune into this page often to join us for our upcoming events.
Recent Events: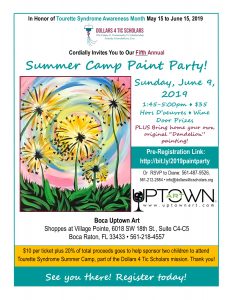 On Sunday, June 9, Dollars 4 Tic Scholars held our 5th Annual Summer Camp Paint Party!
Every year we celebrate Tourette Syndrome Awareness Month with our Paint Party that helps send two children with Tourette Syndrome to Tourette Syndrome summer camp. We had a wonderful group of supporters join us at Boca Uptown Art to paint a Summer Dandelion! We enjoyed snacks, a little wine and doorprizes, and created some beautiful paintings!
See below for photos from our event, and click to enlarge. More coming soon!