Dollars 4 Tic Scholars relies on the generosity of the public as well as revenue from special events to fund our scholarships and operations.
We hope you'll tune into this page often to join us for our upcoming events.
Upcoming Events: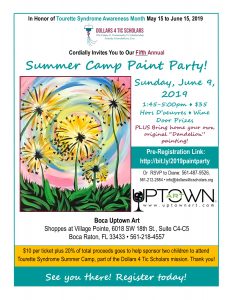 It's summer and time for dandelions…and our 5th Annual Summer Camp Paint Party!
Help Dollars 4 Tic Scholars send 2 children to Tourette Syndrome Summer Camp by painting with us on
Sunday, June 9, 2019.
Includes snacks, wine, and door prizes.
No talent required!
Boca Uptown Art, 6018 SW 18th St., Suite C4-C5, Boca Raton, FL 33433
1:45pm
$35 which includes your donation for summer camp attendance fees
Click here for more information – we hope to see you there!