Dollars 4 Tic Scholars relies on the generosity of the public as well as revenue from special events to fund our scholarships and operations.
We hope you'll tune into this page often to join us for our upcoming events.
Coming Soon!
May 6 & 7, 2023 – our annual Kendra Scott Jewelry fundraiser is back! Stay tuned for our online link to order your jewelry during the weekend – in time for Mother's Day! Our Scholarship Fund will receive a percentage of every purchase at no extra cost to you.
Recent Events: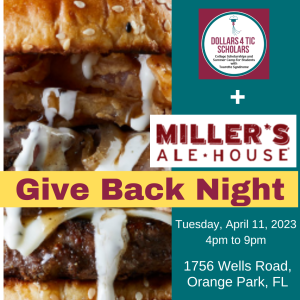 April 11, 2023 – Miller's Ale House Give Back Night aka D4TS Dining Day
Miller's Ale House in Orange Park, FL partnered with D4TS for a Give Back Night. This was our first event held in North Florida! Friends and neighbors came out to dine, and the restaurant donated a percentage of meal purchases to our Tourette Syndrome Scholarship Fund. We didn't catch everyone's photo, but we thank everyone who supported the cause!  (click photos to enlarge)