On behalf of our students with Tourette Syndrome, Dollars 4 Tic Scholars  stays busy all year long spreading the word and raising scholarship funds. What have we been up to? Here are the highlights from 2016.
February 26 – Friday Nite with Chelsea White!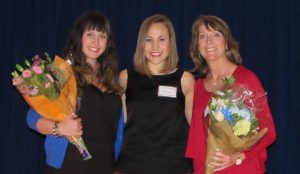 We held our annual major fundraiser where everyone enjoyed delicious food, plenty of drinks, and a rousing comedy show by MTV's Chelsea White, stand-up comedian and writer and producer of Girl Code & Girl Code Live!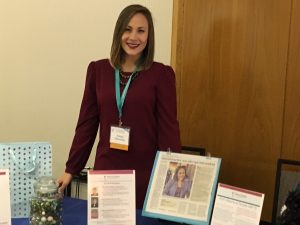 March 31 – We attended and exhibited at the Tourette Association of America National Education & Advocacy Conference in Arlington, VA where we met influential people and learned from worthwhi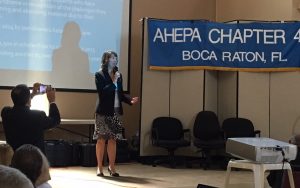 le educational sessions on Tourette Syndrome
May 15 – We attended the AHEPA Chapter #487 annual awards breakfast and were awarded one full scholarship for a student to attend college
May 3-4 – We participated in Great Give Florida, an annual day of philanthropy where for 24 hours, everyone in the community helps raise as much money as possible for local nonprofits.
May 22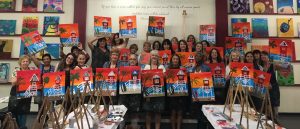 – For Tourette Syndrome Awareness Month we held our annual Summer Camp Paint Party at Vino VanGogh to raise money for camp scholarships to Camp Twitch and Shout. We had great fun with our supporters painting a summer beach scene.
June – Our Selection Committee was hard at work reviewing applications. We awarded five deserving students with Dollars 4 Tic Scholars Tourette Syndrome Scholarships to schools across the country from Washington to Virginia. We sent out a national press release announcing the recipients.
July – Kelsey served as a volunteer c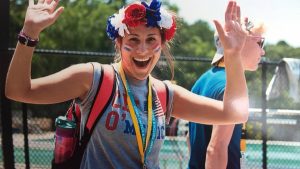 ounselor for the third year in a row at Camp Twitch & Shout in Winder, GA and D4TS sponsored two children to attend the camp as well.
August 26 – We held our Tastefully Simple Fundraiser where everyone had a great time eating and sampling wonderful food. Consultant Deb Roman donated a percentage of the party sales to our scholarship fund.
September 22

 – Zorba's Taverna in Delray Beach kicked off our "D4TS Dining Days" and hosted our supporters with plenty of delicious Greek food. It was great to see everyone enjoying themselves and Zorba's generously donated a percentage of the dining sales to D4TS.
October 19 – Chili's in Boca Raton was the site for our second D4TS Dining Day, where we had a great time and they kindly donated a percentage of the night's dining sales to D4TS.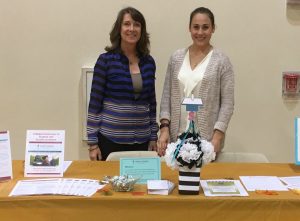 October 30 – We exhibited at the Special Needs Resource Fair held at St. Paul Lutheran Church in Boca Raton, where families with disabilities came to find out more about local resources for the disabled
November 15 – Corner Bakery Café in Boca Raton was our latest stop in our Dining Days campaign, where they too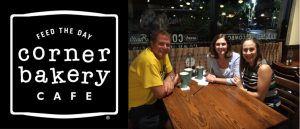 generously donated a percentage of the dinner sales to D4TS. Our D4TS Dining Days were so popular we hope to continue them into the new year. We appreciate our restaurant partners for supporting our students.
November 17 – We attended the newly formed Boca Raton Tourette Syndrome Support Group sponsored by the Tourette Association of America Florida Chapter. We are excited about this monthly group that is so needed in our community.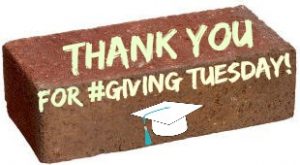 November 29 – GivingTuesday! With the generosity of our donors we were able to raise enough money for a complete scholarship to help a student with Tourette Syndrome!
December 20 – As you can see we have created our very first newsletter and are excited about communicating with our supporters through a new platform.