There are so many holidays after Thanksgiving – Black Friday, Small Business Saturday (do business at a mom and pop business), Cyber Monday. And then? #Giving Tuesday!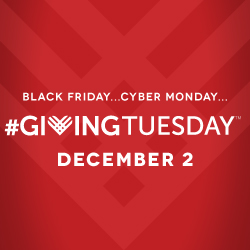 #Giving Tuesday is a movement to do the #unselfie thing and give to your favorite charity. If you visit www.givingtuesday.org, you will be able to read more about it. It is a fairly new special day – established in 2012 and now practiced and promoted globally.
Dollars 4 Tic Scholars opened up its Facebook page and website on November 23, right before the Thanksgiving holiday, but just in time for #Giving Tuesday! (Another reason we launched the website – November is #NationalScholarshipMonth!) Non-profits all over are promoting #GivingTuesday as a day to give back…now that we have shopped til we dropped in stores and online. It's an opportunity to give back for the bounty that we have.
Dollars 4 Tic Scholars has set a goal for donations on #GivingTuesday and we hope you'll help us get there by visiting our donation page at https://www.dollars4ticscholars.org/donate-now.
Your donation helps support our mission – to award scholarships to deserving college students with Tourette Syndrome. #GivingTuesday on December 2nd is an exciting opportunity to take a moment and support our new organization with a donation in the amount of your choice. Our student scholarship candidates will be grateful for your heartfelt contribution that will help them focus on their education.
Diane Diamantis
A COPY OF THE OFFICIAL REGISTRATION AND FINANCIAL INFORMATION MAY BE OBTAINED FROM THE DIVISION OF CONSUMER SERVICES BY CALLING TOLL-FREE WITHIN THE STATE. REGISTRATION DOES NOT IMPLY ENDORSEMENT, APPROVAL OR RECOMMENDATION BY THE STATE. The toll-free number of the department is 1-800-HELP-FLA (435-7352) – calling from within the state of Florida, or (850) 410-3800 – calling from outside of Florida. The website of the department is www.FloridaConsumerHelp.com. Reg. #CH41961.