Make a difference in our 6th Annual #GivingTuesday
"Building Blocks for Scholarships" Giving "Bricks-day" campaign.
Please visit this page again on November 29, but for now, read on to learn more!
Dollars 4 Tic Scholars will be awarding college scholarships to deserving students who have Tourette Syndrome in June of 2023. All year long, we hold fundraising events and search for donations to help these students achieve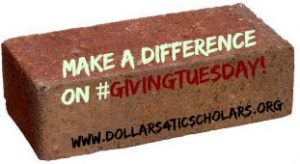 their dreams of going to college.
Since 2015, we have awarded 53 scholarships to students around the country —  thanks to the generosity of our supporters like you.
These scholarships help students, who may have extra expenses due to their Tourette Syndrome, with the financial burden of college expenses including tuition, room and board, books and fees.
Your  tax deductible #GivingTuesBricksday donation on November 29 will be a "Building Block" to add to the Dollars 4 Tic Scholars Tourette Syndrome Scholarship fund to help pay:
You can learn more about Giving Tuesday by visiting www.givingtuesday.org.



Your gift is tax-deductible to the fullest extent of the law. The Kelsey B. Diamantis TS Scholarship Family Foundation, Inc., dba Dollars 4 Tic Scholars is a 501(c)3 public charity. Our tax identification number is 47-0992764. A COPY OF THE OFFICIAL REGISTRATION AND FINANCIAL INFORMATION MAY BE OBTAINED FROM THE DIVISION OF CONSUMER SERVICES BY CALLING TOLL-FREE WITHIN THE STATE. REGISTRATION DOES NOT IMPLY ENDORSEMENT, APPROVAL OR RECOMMENDATION BY THE STATE. The toll-free number of the department is 1-800-HELP-FLA (435-7352) – calling from within the state of Florida, or (850) 410-3800 – calling from outside of Florida. The website of the department is www.FloridaConsumerHelp.com. Reg. #CH41961.