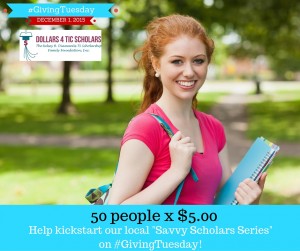 Thank you for visiting our #GivingTuesday donation page.
Dollars 4 Tic Scholars will be awarding college scholarships to deserving students who have Tourette Syndrome in June of 2016. In addition, we are gearing up for our "Savvy Scholar Series" of spring presentations for graduating high school seniors and college students and their parents, to help prepare them for college decisions and success. Your donation will help us with our new program of presentations. Any funds raised during #GivingTuesday that are not used for our programs will be applied to scholarships.
We appreciate your joining us in our 50 people x $5 campaign. Choose a donation amount below. Your donation is tax deductible.
$5.00
$5.00 + $5.00 = $10.00
Enter your Own Amount: