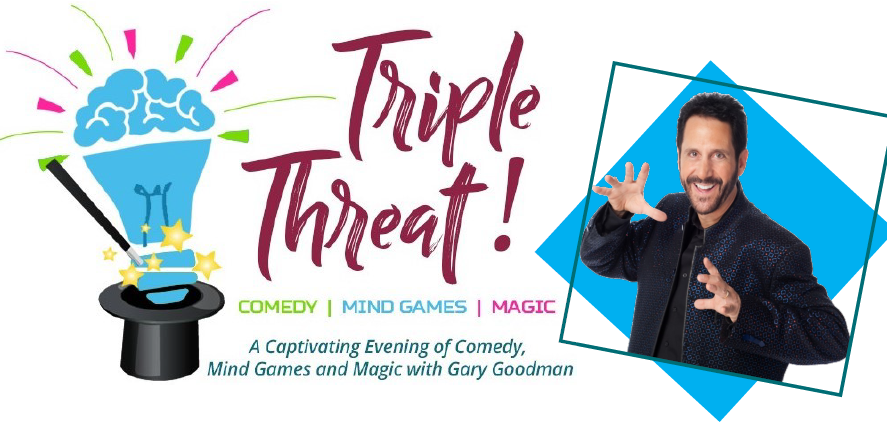 CALENDAR RELEASE
January 17, 2018
DOLLARS 4 TIC SCHOLARS TO PRESENT "TRIPLE THREAT" ON FEBRUARY 23, 2018; Scholarship Fundraiser to feature Illusionist Gary Goodman
DELRAY BEACH, FL – Dollars 4 Tic Scholars, a 501c3 non-profit organization, invites the public to its annual scholarship fundraising event. "Triple Threat, A Captivating Evening of Comedy, Mind Games and Magic with Gary Goodman" will be held on Friday, February 23, 2018 at 6:30pm. "Triple Threat" will be held at the South County Civic Center, 16700 Jog Road in Delray Beach, FL to help raise money for college scholarships for students with Tourette Syndrome.
Nationally known grand illusionist Gary Goodman, a Boca Raton resident, will take the stage and present an amazing comedy magic show that's sure to entertain. The evening will include dinner, beer and wine, raffles, and a silent auction. Entry fee is $45.00 and registration information is available online at https://www.dollars4ticscholars.org/triple-threat.
Proceeds from the event will go toward 2018 Dollars 4 Tic Scholars college scholarships. Sponsors include Alan L. Wishneff, DDS, PA. Additional sponsorships are available.
For questions or for additional registration information, please contact The Kelsey B. Diamantis TS Scholarship Family Foundation, Inc. dba Dollars 4 Tic Scholars by calling 561-487-9526 or emailing info@dollars4ticscholars.org.
# # #