Who doesn't love summer camp?
At The Kelsey B. Diamantis TS Scholarship Family Foundation, Inc., aka Dollars 4 Tic Scholars, we do! Our primary mission is to raise scholarship funds for college students who have Tourette Syndrome. But our secondary mission is for the younger kids!
Every year, we have committed to sending two kids to summer camp – specifically, Camp Twitch and Shout, a one-week sleepover summer camp in Georgia. Kelsey was lucky enough to be selected as a camp counselor there last year – and quickly found – it was one of the best experiences of her life!
Children with Tourette Syndrome can experience social situations that don't feel good – from people looking at them funny to ostracism and bullying. Camp Twitch and Shout is a place where kids with  Tourette's can be themselves!
Last year, we met with Tricia Kardon, Camp Administrator, and pledged to sponsor attendance fees for two children every year. We will meet our goal this year, but we need your help. Here are three ways you can help the kids go to camp!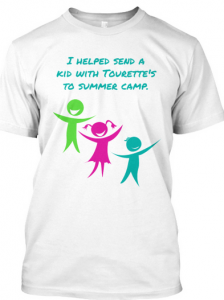 Through May 21, 2015, buy a T-shirt.  A portion of every T-shirt sale goes to D4TS to help send the kids to camp! They come in regular, women's fitted, and even long sleeve. Hurry, the t-shirt campaign ends soon! http://teespring.com/Tourettes-camp-sponsorship
Attend our "Gals' Afternoon Out" Summer Camp Paint Party! May 24 at 2:30pm. Here's the pre-registration flyer and more info.
Just send a check marked "Summer Camp" or visit our donation page and donate a summer camp fee or the amount of your choice
Summer camp is the week of July 12 this year. We are sponsoring a local 10 year old from Boca Raton, as well as one other child of the camp administration's choosing. I spoke to the mom of the local child, and the camp will mean so much to her!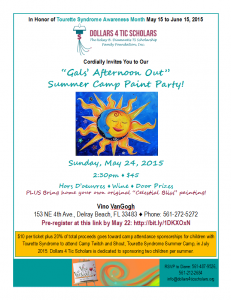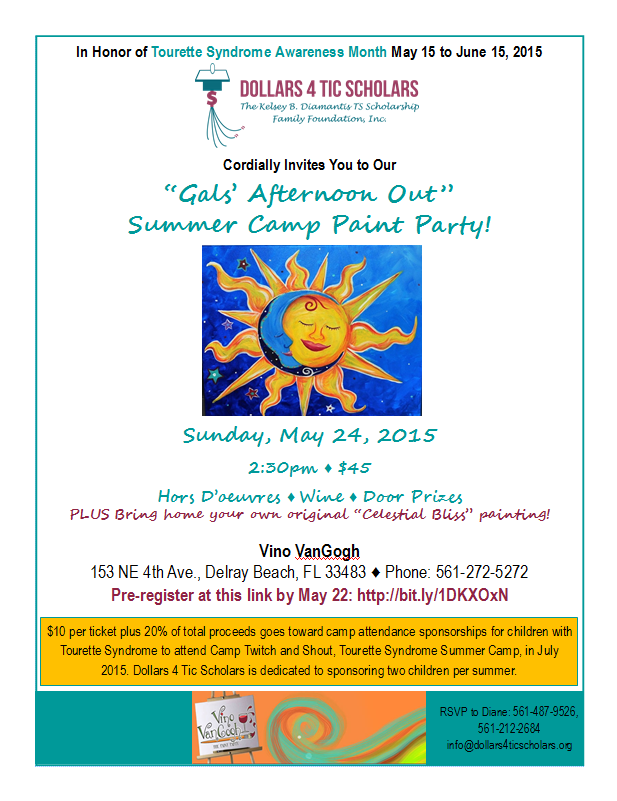 May 15 to June 15 is Tourette Syndrome Awareness month – another good reason for us to hold the paint party and t-shirt sales. With your generosity, our summer camp fundraisers will make a huge difference to two children with Tourette Syndrome!
Diane and Kelsey Diamantis
Co-Founders, Dollars 4 Tic Scholars