Ever thought about why students with Tourette Syndrome might have extra costs associated with attending college? Or why Dollars 4 Tic Scholars is even necessary?
I spoke to several parents of 17-year-olds in February when Kelsey and I attended the Tourette Syndrome Association of Florida's annual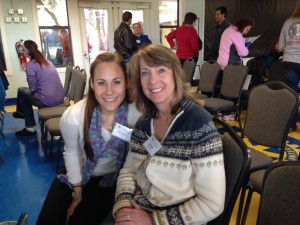 Family Weekend 2015 in Brandon, Florida. They were enthusiastic when they learned about our scholarship program, and were more than happy to share with me some ideas about the costs that students with Tourette's may face.
Expense of medications – If a student with TS is on medication(s), then most likely the family has been paying for prescriptions for awhile if the child is 17.
Tutoring – Tutoring for classes in high school adds up – I know we hired a tutor a few times for Kelsey and they started at $50/hour – that is probably a low rate! In college, a student should be able to get tutoring through the Disability Services office, or tutoring available through the school which should be no charge. Point being – families of students with TS have potentially already been outlaying money for tutors.
Testing – If psychological / educational testing is required for college admission, it could be as much as $2,000. (Hint from one parent – It takes a long time to complete the testing – to find a place that offers it, and to get on the schedule. The testing itself then is over a period of weeks, so plan ahead.)
Legal fees – For high school students with TS getting ready to enter college who need accommodations for taking the ACT or SAT, one parent discovered that the guidance counselor in her school was not interested in helping her child get accommodations. (Another tip – start early with this.) An attorney was required to gather the paperwork to get the accommodations for the student…to the tune of $300/hour.
Cost of retaking a college class – Due to the difficulty absorbing class material, focusing in class and studying, a student with Tourette may actually have to retake a class in college, thus incurring that extra tuition cost.
More Costs
I also did a Facebook shout-out to see if any of our followers had any more ideas as to why college may be more expensive for students with TS, and appreciated the replies – things I had not even considered yet! 'J' contributed these ideas:
A student with TS might need to buy things that other students wouldn't need to succeed in college – for example, a weighted blanket, or, noise-cancelling headphones to accommodate sensory needs, both of which cost quite a bit of money.
A student with significant TS symptoms might need to live in a single dorm room, which may cost more money than a double room, even though it is a disability accommodation. This may vary by school.
Families who are getting ready to send their high school seniors off to college have enough to think about without the additional worry of college costs. Their young adult has a world of opportunity in front of them, yet scholars with Tourette Syndrome have to work extra hard to learn and earn their degree due to their TS which may be accompanied by ADHD and OCD. Plunged into a new environment, they also have social acceptance to worry about and whether or not their tics will be disruptive to others.
Dollars 4 Tic Scholars was established to let students know that we recognize the challenges of students with Tourette Syndrome, and our goal is to provide "financial encouragement" for these students to go to college and stay in college. There are a myriad of opportunities waiting for these students to make their mark on the world – and we want to help them get there. That's why we like to say we provide college scholarships for Movers and Shakers.
We are currently running a Crowdfunding Campaign to raise scholarship money at http://igg.me/at/tourettes-scholarship. Read our story and watch our video – and yes – think of the families and students with Tourette Syndrome and the extra college costs they face.

PS: If you have thought of other college costs that families and students with TS may experience that we've left out, please let us know!
Diane Diamantis
President & Co-Founder
Dollars 4 Tic Scholars
info@dollars4ticscholars.org
561-487-9526